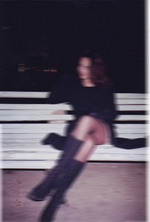 Her ways would every heart make rattle,
Involved a lot and so unique.
Her presence everyone would flatter,
And instantly move up a league.
Her body is another matter,
So perfect and refined so much.
There are no simple angles at her,
And she demands that special touch.
Her eyes and Sun attract alike,
Her voice is beacon of the sea.
She's always wanted, always liked.
There's nothing else one'd want to see.
Her ways would every heart make tremble,
Not every heart could stand that much.
Are broken lots, and mine resembles,
Just one of many in the bunch.
No comments yet.